What products for beginners?
Have you decided that you want to start with eyelash extensions application? You may even attend a course, but what now? What do you need to get started, and you haven't missed anything?
You will definitely need to train for a while before you can fully start with eyelash extensions application. However, there are not always enough willing friends or family members at hand who let themselves to be "experimented" on. Especially from the beginning, before you get the necessary knack, the application of eyelash extensions can be quite unpleasant. For example, you may rest your fingers on the model's forehead too much, apply eyelashes too close to the eyelid, or the application will take too long. Therefore, it is possible to buy a training head that will patiently tolerate this phase of training and will be available anytime and anywhere. You can then apply the lashes directly to the eyelids of this head or buy training lashes that simulate the customer's real lashes.
| | | |
| --- | --- | --- |
| training head | training eyelashes | bracket for training head |
| | | |
Of course, false eyelashes are a necessity for eyelash extensions. For starters, it is better to use a pack of false eyelashes with different lengths than to buy individual lengths. It is good to try practicing not only with different lengths of lashes, but also thicknesses, curls and materials. Through practice, you will find out how to work with different types of eyelashes and which to recommend to your clients.
| | | |
| --- | --- | --- |
| false lashes type MINK | false lashes type SILK | false lashes type Cashmere |
| | | |
False eyelashes are applied on natural eyelashes using special lash glues. Lash glues with a longer drying time are intended for beginners, who thus have more time to put the false eyelashes in a drop of glue, apply them to the natural eyelashes and adujst the false eyelash into the desired shape.
lepidlo Ultra Bonding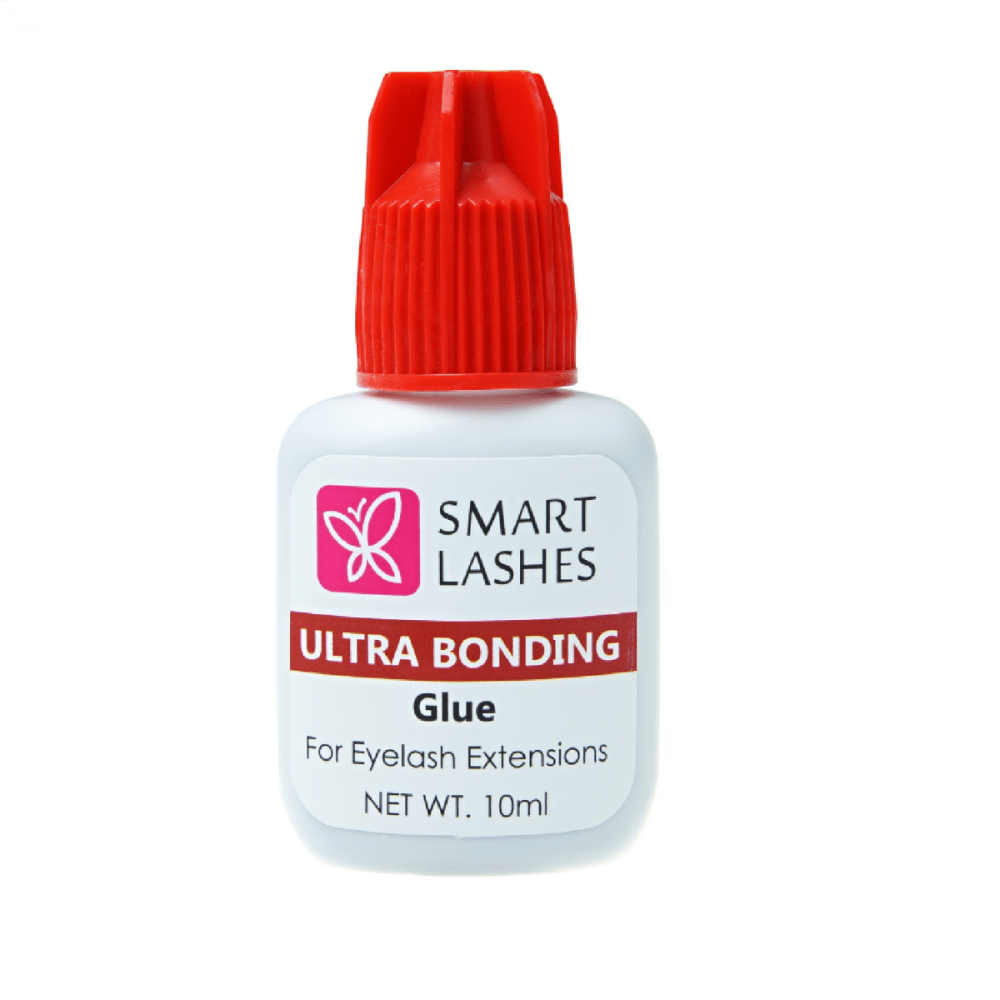 You can't apply eyelash extensions without quality tweezers. Two of them, straight and curved one, are used during application. The straight tweezers are used by the left hand for separating one natural eyelash from others. False eyelashes are applied by curved tweezers used by the right hand. Less curved tweezers are used more for the classic eyelash to eyelash method (1:1), more curved for volume techniques (application of more artificial eyelashes to one natural eyelash). The tweezers must be made of high-quality materials with a sharp and firmly closing tip. However, the tweezers must not break, bend, or otherwise damage the false eyelash. The tip is very prone to damage and if the tweezers fall off, they are usually unusable. Therefore, it is good to have a spare set of tweezers ready.
| | |
| --- | --- |
| tweezers type B | tweezers type C |
| | |
Before the application itself, it is necessary to properly prepare natural eyelash. For this, a primer is used, which completely degreases the eyelash and cleans it of all impurities. If you do not apply any of the lashes completely correctly or you just want to continue training on training lashes, you can remove the applied lashes with a remover. It reliably loosens the joints between the lashes without damaging them.
| | |
| --- | --- |
| primer | remover |
| | |
When applying eyelash extensions to models, you must also think about the safe separation of lower lashes from upper lashes. For this, special hypoallergenic tapes and pads are used, which cover the lower lashes so that they do not stick together.
| | | |
| --- | --- | --- |
| gel pads Silver Edition | paper hypoallergenic tape | silicone hypoallergenic tape |
| | | |
Don't forget to check your work continuously by combing lashes with a mascara brush. You can verify that all the lashes are applied correctly and that the resulting effect is to your liking.
You can also buy all basic products and tools for beginners in practical sets for a discounted price. This way you can be sure that you have everything you need to get started.
| | |
| --- | --- |
| START lash set | START PREMIUM lash set |
| | |