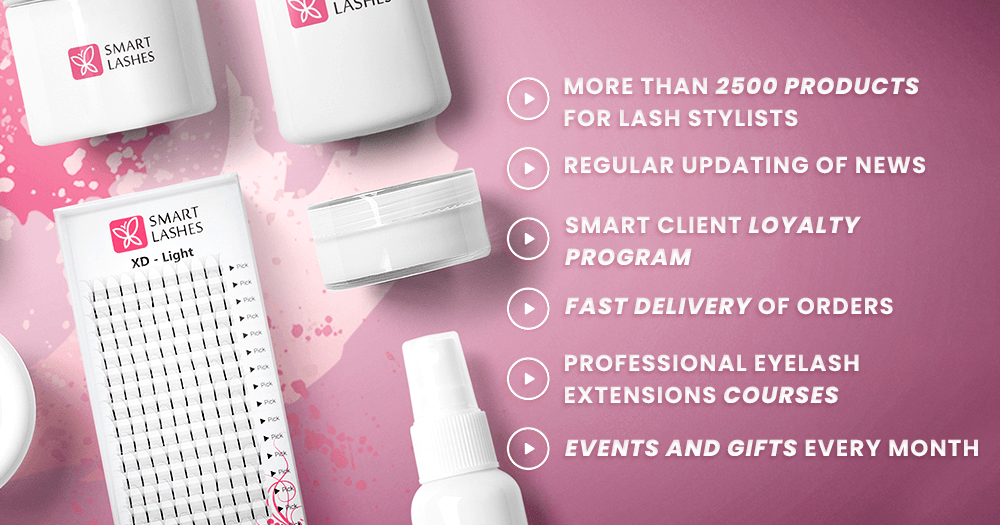 About Smart Lashes
Since 2012, we have been one of the most important sellers of professional accessories for the application of eyelashes extensions and other products in Europe.
We first test all products in our own beauty salons, so we can guarantee their high quality.
Our professionally trained staff will be happy to advise you both online and in person in our modern showroom. Here you can also try the products or pick up your order.
In addition to the opportunity to subscribe to our newsletters and participate in various competitions, you can also try out our loyalty program, which will reward you for every purchase.
We regularly organize professional courses for both beginners and professionals, led by international lecturers with many years of experience. We emphasize the comprehensibility and practical part of the course so that participants gain maximum experience.
Our mission is to respond quickly and responsibly to the daily needs of our clients and help them achieve the best possible results.
Not only satisfied clients but also numbers speak for what we do:
Over 15,000 beauty salons in more than 30 countries are ordering from us.
We processed over 26,000 orders in 2019, of which 60 % of orders were delivered the next day.
We received 98% of Smart Lashes product ratings based on independent ratings.
Over 700 satisfied graduates have taken our courses.
We care about the quality of our products and thanks to that we dealt with only 0.4 % of cases of returning goods in 2019 comparing to the total number of orders.
We look forward to welcoming you to our family team and to working with you!