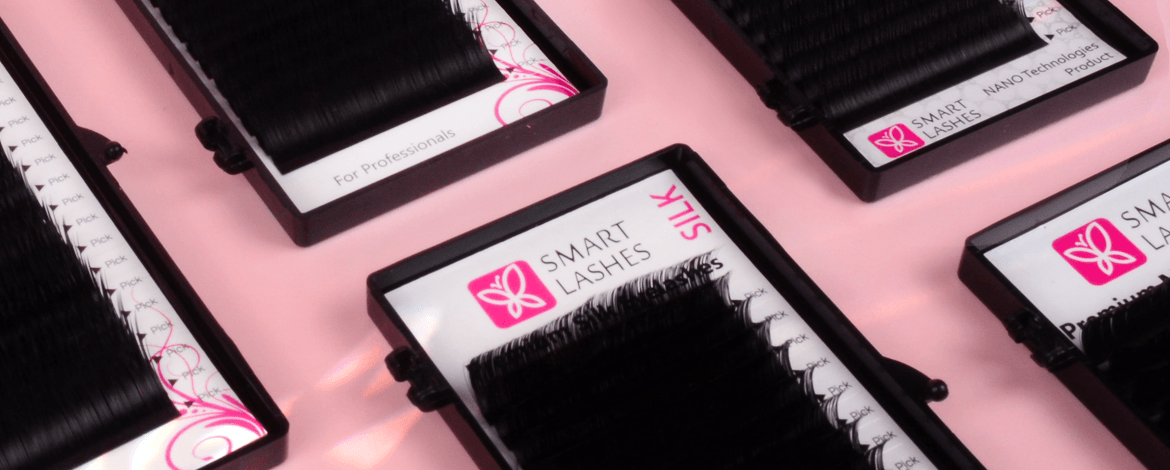 About Smart Lashes eyelashes
You will find a large number of different types of eyelashes for extensions in our offer. For more experienced lash stylists, it is probably not a problem to choose exactly the eyelashes they need for their work, but for novices, selection can be a big problem. Therefore, here you will find a clear division of eyelashes according to basic parameters and individual types.
Length of eyelashes
The length of lashes is given in millimetres and in our offer, you will find lashes in the length of 6 to 20 mm. The length of the lashes is chosen by the lash stylist together with the customer according to her wishes, the resulting effect and the quality of the client's natural lashes. Eyelash extensions must not be too heavy for natural lashes to prevent them from falling out prematurely. Shorter lashes are usually used in the inner corner and longer lashes in the outer corner of the eye, but it depends on the selected effect. Shorter lashes are used for more natural effects, longer lashes are usually used for significant effects.

Eyelash thickness
In our offer you will find eyelashes with a thickness of 0.05 to 0.25 mm. As with the length of the lashes, the thickness is chosen according to several factors. It depends on the client's wishes, how significant the resulting effect should be, how healthy are customer's natural lashes and also on the application method of eyelash extensions used. Thinner lashes are used for more natural effects, thicker lashes for strong effects. If the lashes are applied by the classical method (one artificial lash is applied to one natural lash), thicker lashes are used. When using volume methods (application of several artificial lashes to one natural lash), thinner lashes are used, or several eyelashes pre-prepared in fans. In volume methods, special emphasis must be placed on not damaging natural lashes. Even with the help of volume methods, a natural result can be achieved thanks to the selection of thin eyelashes.
Curl/shape of eyelashes
How much are the lashes curled is indicated by letters, where for example the B lashes are almost straight and D very curled. There are also other types of lashes, such as L lashes, where the beginning of the lash is straight, and the other part of the lash is curled. The most often used lash shapes are type C and D. Different shapes of eyelashes can be freely combined according to the desired effect.

Types of eyelashes
Mink – matte lashes ideal for natural eyelash extensions effects.
Silk – lashes with a silky sheen suitable for more pronounced types of effects.
Nano – lashes with unique micropores. Thanks to the micropores, they are lighter than other types of eyelashes and enable better adhesion of the glue to the eyelashes, and thus longer durability of the eyelash extensions.
Cashmere – eyelashes with a unique shape. Their cross-section is flat, so they are lighter and adhere better to natural eyelash. As a result, eyelash extensions last longer.
XD Light – lashes in already pre-prepared fans, specially designed for volume extension of lashes. Just choose a fan of the required number of lashes and apply it to natural lashes just like other types of extensions.
Easy Fan – eyelashes specially designed for volume extension of eyelashes. Thanks to their unique placement on the tape in two rows, it is possible to create a fan of the required number of lashes by simply picking them with tweezers.
Special – eyelashes designed for special occasions. Here we can include lashes coloured, highlighted or with rhinestones and glitter. These eyelashes are usually not used for everyday wear and are not applied to all natural eyelashes. They can be applied, for example, to only a few lashes to highlight a chosen effect or they can be used for special occasions such as a ball, Halloween, photo session, etc.
If you want to know more about individual types of eyelashes, follow our social networks, blog or subscribe to our newsletter.