| | |
| --- | --- |
| Product: | cosmetic lamp SmarTwin |
| Light color: | 3000 - 6000 K |
| Power: | 50 W |
| Light intensity: | 1 - 100 % (4 800 LM) |
| LED diods: | 288 |
| Weight: | 1 kg |
| Stand height: | 180 cm |
A quality lamp is an essential equipment for every lash stylist!
Smartwin cosmetic lamp represents the necessary equipment of salons. It is especially suitable for lash stylists, makeup artists, photographers, tattooers or influencers who do not want to subject their work only to daylight.
The big advantage is the possibility of setting the level of radiation and the temperature of the emitted light. You can use a wide range of warm and cold shades in various combinations as needed.
The built-in LED bulbs provide perfectly sharp light, which you will appreciate the most when working in detail, such asfor example, eyelash extensions.
You can adjust the direction and height of the light according to your needs and room in which you are currently working.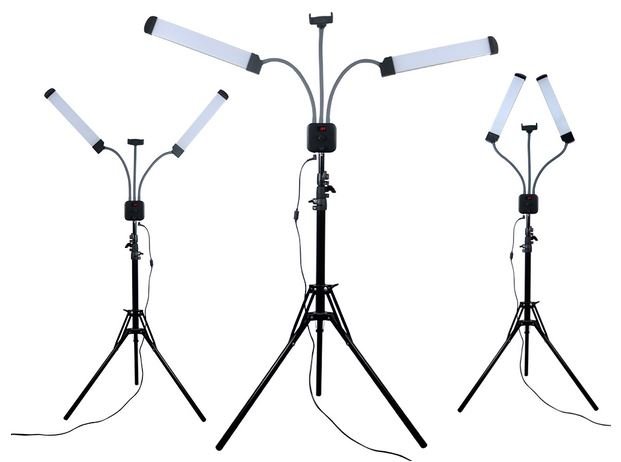 The light heads placed on the flexible arms guarantee uniform lighting without the creation of unwanted shadows.
Thanks to the simple construction, you can easily carry the lamp and adjust it as needed. The lamp is very light and easy to handle. It is equipped with a mechanism for attaching a mobile phone, thanks to which you can easily create photos and videos with perfect lighting. You can also use the USB port to connect.

Notice:
Use the lamp indoors only, we do not recommend using it in places with high humidity. (eg bathrooms)
In the event of a fault, contact the technical department for complaints immediately.

Package contens:
lamp + telescopic stand
power cord with adapter
cell phone holder
bag
| | |
| --- | --- |
| Code | LAMP-SMARTWIN |
| GTIN | 8596342046858 |